King's Coronation Community Event Saturday 6th May
"Party at the Park" A Coronation Celebration event for the whole community
PLEASE NOTE THIS EVENT HAS MOVED TO ROBERTSBRIDGE VILLAGE HALL - SEE TEXT BELOW POSTER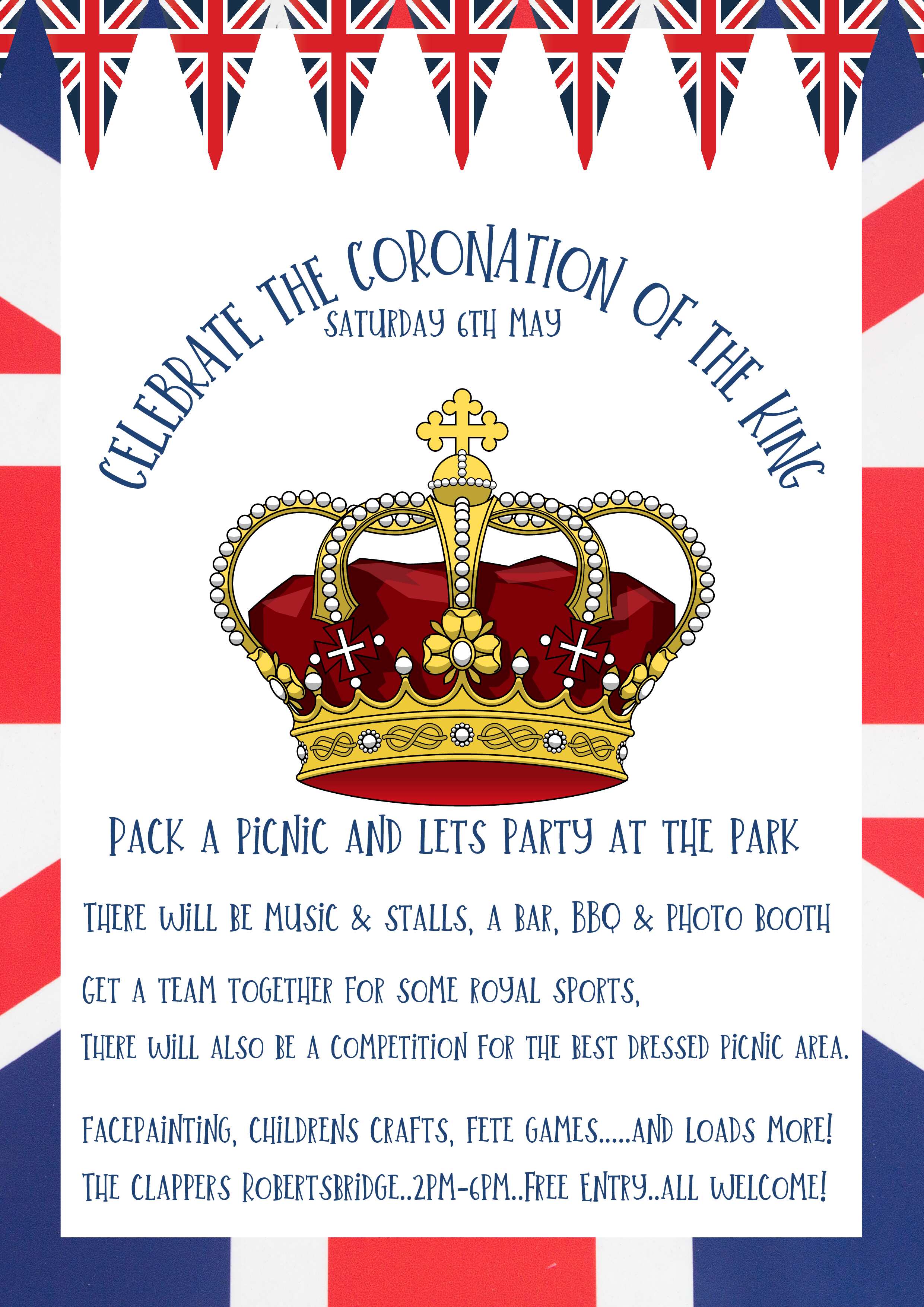 Following on from the Robertsbridge Carnival which helped to fund the current Village Hall, it has become a tradition in recent years to hold a free summer event in June for the whole community, instigated by the Parish Council. Last year a group of volunteers led by Dawn Hill from Robertsbridge Village Stores, organised a wonderful event on behalf of the Parish Council to celebrate the Queen's Platinum Jubilee. This year Robertsbridge Bonfire Society have very kindly answered the Parish Council's appeal to lead on organising the main community event for Salehurst & Robertsbridge residents and their friends and families to celebrate the Coronation of Kings Charles III.
Party at the Park is on Saturday 6th May from 2-6pm and will take place at ROBERTSBRIDGE VILLAGE HALL (inside and out!). It was going to be held Clappers Recreation Ground (Northbridge Street) but due to the unsettled weather we have changed the venue! We are following the original publicised venue: a fun filled afternoon with live entertainment, traditional fete games , some team relay games, a Royal photo booth and so much more. An opportunity to come together to celebrate as a community the Coronation of the King. No ticket is required, just come dressed to celebrate in red white and blue if you wish, bring a picnic and join your friends and family in one big Party at the Park. Share this moment in history with your community and let's make some wonderful memories. There will be a competition for the best dressed picnic table (be as creative as you wish), as well as a bake off and photographic competitions - details here. And there will be an opportunity to buy food and drink if you don't wish to bring your own picnic.
For those who use Facebook there is a Facebook event King's Coronation Party at the Park The event schedule will be available in local shops before the day or you can view or print a copy here.