Neighbourhood Plan
Salehurst & Robertsbridge Neighbourhood Development Plan 2016-2028 (Adopted July 2018)
The 'Salehurst and Robertsbridge Neighbourhood Development Plan 2016 - 2028' was made on 9 July 2018. It now forms part of the Development Plan for Rother District and will be used when determining planning applications within the designated Neighbourhood Area of Salehurst and Robertsbridge Parish.
The Plan, and the Annex of Maps, can be seen here:
Salehurst & Robertsbridge Neighbourhood Development Plan 2016-2028 (Adopted July 2018)
Salehurst & Robertsbridge Neighbourhood Development Plan 2016-2028 Annex 1 Maps (Adopted July 2018)
Information relating to the very start of the Neighbourhood Plan process can be seen below. However, from May 2015 until the Plan was 'made', there was a separate, dedicated website for the NP, which documents the process, including all consultations, drafts, background documents etc - please click here to go to the 'historic' site: S&RNDP production /historic informaiton
How it started...
The Parish Council (PC) formally approved doing a Neighbourhood Plan at the Parish Council Meeting on Monday 19th January. This is very much a community project and the first public event on 10th January 2015 was well-supported, with those attending overwhelmingly in favour of a plan.
There was a short questionnaire at the event on 10th, to gather initial thoughts and suggestions, and to invite those wishing to get involved to express interest in joining a Steering Group, or offer help in other ways. Details of the responses can be found below.
Introductory Event
10/01/15 NEIGHBOURHOOD PLAN Introductory Event - thank you to all who attended.
You can see the PowerPoint presentation from this event here.
We now have available to download a report of the responses from the questionnaires, and a shorter summary of the main themes arising.
The Diversity monitoring questionnaire pages are also summarised here.
Steering Group
This has now been formed - the membership below (17 people) was approved at the Parish Council meeting on 16th March 2015. The group has formed 6 working groups based on the main themes arising from public feedback - these, and the leaders of each group, are indicated in the table below.
| Steering Group Member | Group Leader |
| --- | --- |
| Dale Allen | |
| Ruth Augarde | |
| Martin Bates | |
| Graham Browne | |
| Sheila Brazier (admin/secretarial) | |
| Alexander Church | Leisure |
| Peter Davies | Environment |
| Nick Greenfield | Education |
| Stephen Hardy (Chairman) | Economy & Tourism |
| Jeremy Knott | |
| Sean O'Hara | Infrastructure |
| Sue Prochak | Housing |
| Judith Rogers | |
| Gillian Smith | |
| Lesley Smith | |
| Tamara Strapp | |
| Emma Watkins | |
The Terms of Reference for the Neighbourhood Plan Steering Group, approved at the Parish Council meeting on 16th March 2015, can be viewed here.
Stage 1 - Neighbourhood Area
A formal application has been submitted to Rother District Council for designation of the whole of Salehurst & Robertsbridge Parish as the Neighbourhood Area. The purpose of this is to enable all residents of the parish to be involved throughout the plan process and to be entitled to a vote at referendum. Click here for a short explanation of the parish boundary, development boundaries and Neighbourhood Areas.
Rother District Council is publicising the area application for a period of 6 weeks and invites representations on the area designation. The consultation period begins on Friday 27 February 2015 and closes on Friday 10 April 2015 at 4.30pm. Please see here for full details and how to make representations. A decision on the designation of the Area will be made by Rother District Council Cabinet at their meeting on 13th April at the Town Hall, Bexhill at 11am.
Neighbourhood Area confirmed - Rother District Council Cabinet, at their meeting on 13th April, confirmed the Civil Parish of Salehurst & Robertsbridge to be a Neighbourhood Area, subject to consideration of responses to consultation (no adverse representations, 9 letters of support). To see the Minutes of the Cabinet Meeting click here.
Call for Development Sites
This is an invitation to landowners with land abutting or within the development boundary (black line on the map below) to come forward with sites with potential for development.
Please write to the Clerk to the Parish Council, expressing your interest together with an up-to-date plan indicating your site by as soon as possible.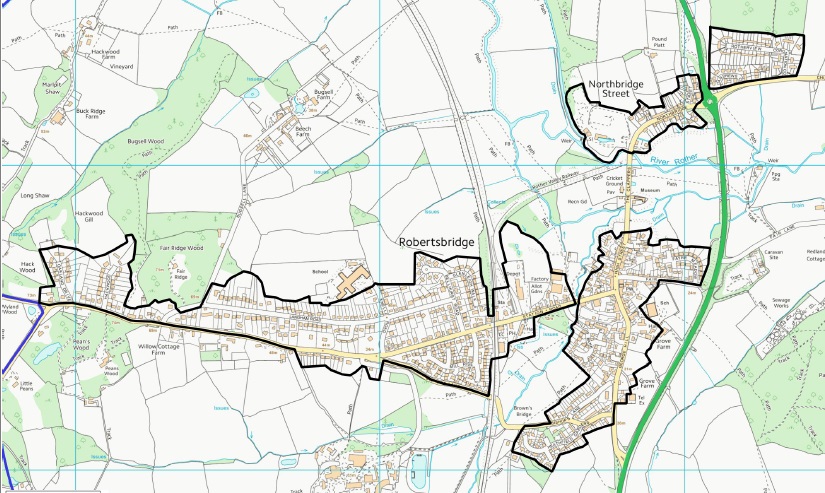 Further Information
You may wish to learn more about Neighbourhood Plans in general - here is a list of useful website links.
The Department for Communities & Local Government has produced a very useful Plain English Guide to the Planning System.